We Can Help
Chiropractic Is Your Key To Health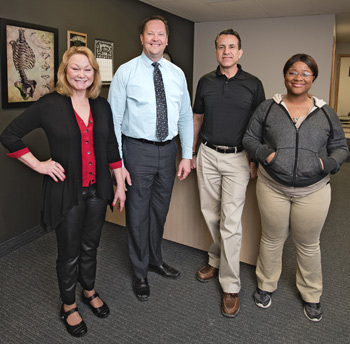 Like many Chiropractors, our goal is to restore health to each individual with whom we come in contact. We understand that the body is self-healing and self-regulating. We understand the nervous system controls and coordinates all functions of the body. Any interference with the nervous function can negatively affect an individual`s health and well-being.
Headaches
There are literally 300 causes of headaches whether it's tension, migraine or stress. Headaches are not due to an aspirin deficiency! Our office has treated thousands of headache cases with amazing results! Whether you have suffered for years or just weeks with headaches, we may be able to help you. Call us for a consultation today!
Low Back Pain
Low back pain is the second most common ailment in American adults, only secondary to the common cold – and can be treated with Plymouth chiropractic care! Spinal adjustments by the chiropractor have been proven to be the most effective treatment for an acute case of low back pain! If you or someone you know has been suffering from a case of lower back pain, don't delay any longer. Call us today! You'll be glad you did!
Numbness & Tingling
Dr. Pearson has enjoyed working with a lot of local musicians in the metro area helping them with certain repetitive stress injuries that create numbness and tingling into the hands, wrists, shoulders, legs, etc. On many occasions a spinal misalignment or "subluxation" can put pressure on the nerves to the extremities which can lead to numbness, tingling or both. Many Chiropractic patients have eliminated unnecessary tingling or numbness that has plagued them for many years. Maybe we can help you or a family member. Call us today!
Organ dysfunction
Can chiropractors help with chronic ear infections? Bedwetting? Digestive disorders? The answer is quite often YES!! Every cell, tissue and organ have a direct connection to the brain through the spinal cord and nerves. If one or more of these nerves becomes interfered with, the result can be pain, numbness, weakness or even organ dysfunction. Dr. Pearson has helped many cases where patients have tried everything with little or no results, only to find out that the source of the problem was in their spine! We can check yours today. Don't wait until it's too late!
Contact us today to schedule an appointment with your Chiropractor.

We Can Help Natural Chiropractic Center | (763) 476-4770