Chiropractic Care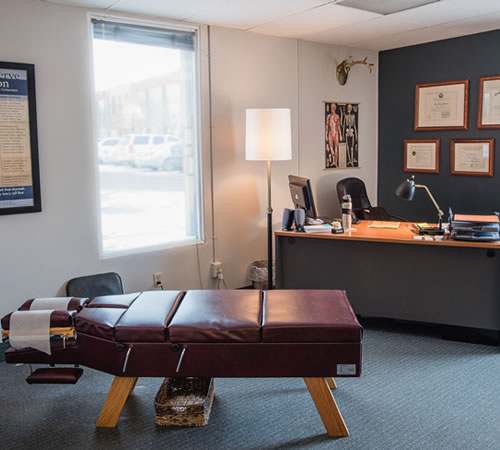 Your body is an incredible self-healing organism. We're here to help remove any interference so you can heal naturally, just as you were designed to.
When you choose us for your care, we begin with a comprehensive analysis of your health history to give us the best idea of how to care for you. We'll dive deep into your past traumas and injuries to determine how they may be affecting you today. We'll also take digital x-rays in our office to get an inside look at what's really going on.
As a promise to you, if we think you'd be better helped elsewhere in a different specialty, we'll always let you know. At the end of the day, your health is our top priority-even if that means receiving care elsewhere.
Our team will openly and honestly discuss our findings with you to ensure you understand your care recommendations.
We have a wide variety of services to ensure you get the exact care you need. The approach we'll use is based on our experience and what we think is best for you.
Types of Chiropractic Adjustments
Dr. Pearson will recommend one or a combination of the options below for your adjustments, in addition to providing custom exercise or stretch recommendations to better improve your problems.
More so, we'll always be evaluating your progress with us. We want you to achieve your goals, and that means we'll be constantly analyzing how you're doing and improving. Dr. Pearson will make tweaks and adjustments to your care as need be-all with your health at the forefront of the decisions.
Already working with a team of medical professionals to improve your health? We're happy to connect with them to bring you the best possible results-simply let us know so we can work together.
This hand-held instrument uses speed and velocity to deliver a precise adjustment and is great for patients of all ages and health status. Read more»
After identifying the subluxation, we'll work to realign that bone in the right place to receive the pressure off of the nervous system. Read more»
This special table helps adjust the lumbar spine and pelvis and is used for those who will get greater results from this type of adjustment. Read more»
New to Chiropractic Care?
Dr. Pearson welcomes you! Before you begin care, he'll take the time to gently explain the way chiropractic care works to align your spine, what an adjustment feels like and how you'll feel after. Then, he'll sit down with you to discuss his recommendations for how you can best take care of you. After your first visit, you can expect him to give you a call to check on you and see how you're doing, answering any further questions you may have.
We're here to help in any way we can. Schedule an appointment so we can show you how chiropractic care can make a difference in your life.

Chiropractic Care | (763) 476-4770